Digitally Printed Frames
Print your custom license plate frame design in full color! Our state-of-the-art UV Printer prints directly onto the frame, giving you the freedom to create without color limitations! Personalize text, change fonts and colors, and even upload a logo! And the best part is we have no minimum quantities! Design your custom license plate frame today!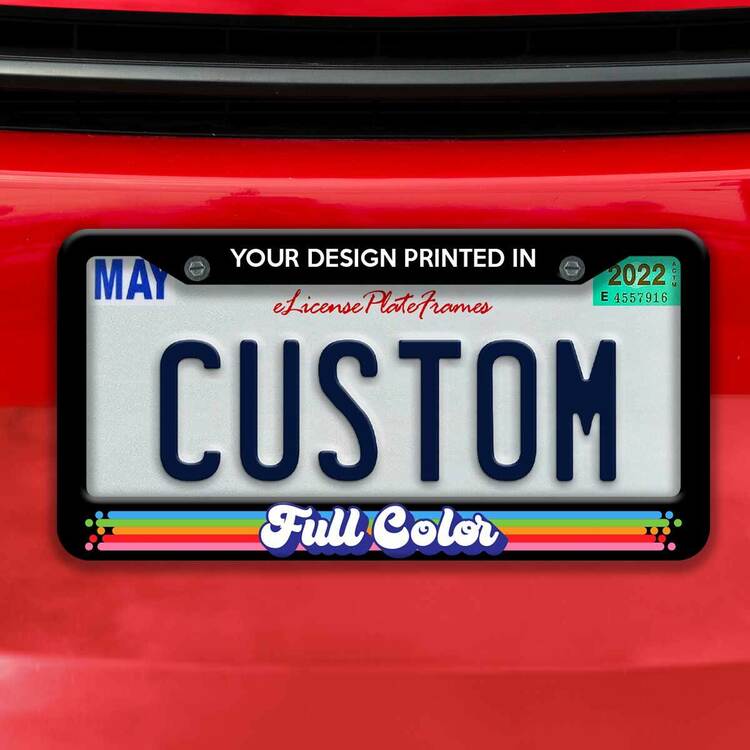 * Products in preview may not be actual size
About eLicensePlateFrames
Order custom license plate frames at elicenseplateframes.com. Use our frame designer tool to create the perfect frame. Quantities are available from 1 to 10,000+.
Digitally Printed License Plate Frames
Add the finishing touch to your car or truck with a customizable license plate frame! Promote your business, advertise a website, support your favorite sports team, display your alma mater, endorse a worthy cause, celebrate a special event, or just share something funny. The possibilities with custom text are endless! Our license plate frames are available in black or white, and come in a variety of styles and shapes to comply with state laws.
Your design is digitally printed in full color, directly onto the plastic frame using our high quality UV printer. Our customization tool makes it easy to design your frame online. Choose your frame style and color, then add personalized text in a variety of fonts and colors! Because our frames are digitally printed, you have no limits on colors! You can even upload your logo or artwork! We recommend checking your local laws to ensure that the style of license plate frame you select is legal in your state. Some states have special laws that may limit what parts of the plate can be covered or obscured by a license plate frame.
Our Customers Love Us!
Out of 8 Reviews
I saw this frame on the car in front of me and had to have it! (I love Jesus AND cheese!) It was pretty easy to customize a frame on the site. I can't wait to get it on my volvo!
My husband is a firefighter so I got him this frame as a gift. He loves it! It's very high quality and the edge of the frame as well as the screw covers are reflective.
I love my new frame! The white vinyl lettering match the daisies and really help them pop!