Digitally Printed
Frames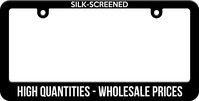 Silk-Screened
Frames
Custom Specialty
Frames
Design Your Own Frame
Our online design tool offers you the flexibility to create the perfect custom license plate frame!
Your Design Printed In Full-Color
Several Frame Styles Available
Personalize Text In A Variety of Fonts
Upload Your Logo Or Design
No Minimum Quantity
Design Your
Frame Now!
Several Different Frame Styles
Easily Add Personalized Text
Choose From A Variety of Fonts & Colors
Wholesale Prices for Larger Orders
Perfect for Quantities Over 250
Design
Frame Now!
Several Designer Frame Styles
Adds Style To Your Vehicle
Customize With Vinyl Lettering
Over 40 Vinyl Colors & Styles Available
The Perfect Personalized Gift!
Design Your
Frame Now!
A stunning die-cast metal, hand-polished chrome frame accented by a brilliant black and red Dodge logo.
$15.95 each
A high polished chrome plated frame accented with the brilliant black Ram
$15.95 each
A high polished chrome plated frame accented with the Chevrolet yellow bowtie emblem. Die cast metal, plated with chrome and carefully hand painted.
$15.95 each
About eLicensePlateFrames
Order custom license plate frames at elicenseplateframes.com. Use our frame designer tool to create the perfect frame. Quantities are available from 1 to 10,000+.
Our Customers Love Us!
Out of 18 Reviews
The frame arrived far earlier than expected. The text on it looks perfect. I'm not thrilled with how reflective the metal frame is, making it difficult to even read if not looking from very specific angles (that's why my photo is angled), but that's really my own fault for not realizing it ahead of time - in the past I've only used plastic ones. The metal frame is also a bit large for the plate, so if I kept it on I was going to put some tape on the back to keep it from potentially scratching the car. But I plan to order another one in white plastic so that it's easier to read, so that shouldn't be a problem. Overall, very impressed with the quality and speed of service!
I saw this frame on the car in front of me and had to have it! (I love Jesus AND cheese!) It was pretty easy to customize a frame on the site. I can't wait to get it on my volvo!
Can't find what
you're looking for?
Our Customer Service
Team Is Here To Help